We are always keeping an eye out for ways to make our data sheets a little easier to use, or a little more streamlined. COASSTer feedback is a big part of that! A data sheet update comes only once every few years, and you can always find current versions of data sheets in the TOOLBOX section of the COASST website.
At that link you can download and print your own data sheets, or simply check the 'current' version against the ones on your clipboard. We are happy to print and mail you new versions as needed! (Especially if you'd like some printed on our special Rite-in-the-Rain paper, which holds up better than regular paper in the wet winter months.)
This month we'd like to announce updates to our MEDIUM and LARGE debris data sheets: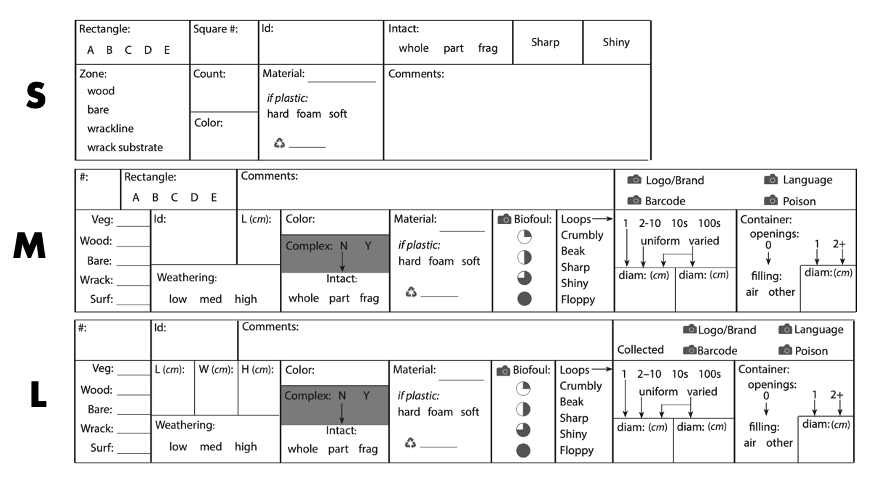 You'll notice only one big change on this version of the data sheets: Complex has been greyed out because we are no longer asking you to answer this question. If you enter your own data online, you can ignore the corresponding Complex checkbox.
Instead, you'll focus on the Intactness of each piece of debris you record. If you're unsure, the default option will be WHOLE. (Look for a follow up blog post with more details about tricky 'intactness' decisions! A quick reminder about the other two intact options: "frag" is an item that's broken, and "part" is an item that's been disarticulated.)
If you have a big stack of data sheets already printed out and you'd like to save paper, please feel free to simply put an X through Complex and continue to use those copies until they are gone.
If you see anything else that looks new and/or confusing on the current data sheets, let us know! The last updates were made to the Cover Sheets back in 2019, including the words Lumber and Driftwood for clarity.